Handpicked Trip – Day 2 – Relaxation and Luxury
Our plan for today:
Eat – Ensku Húsin
Play – Ölkelda
Eat – Langaholt Guesthouse
Shop – The little shop at Búðir
Eat/Sleep – Hótel Búðir
---
It was easing waking up at Ensku Húsin after a good rest in this quiet country guesthouse. First thing was to rip up the letter for day 2 schedule. Organising the day over a lovely breakfast, we headed out early to get as much of the day as we could.
Our plan was to drive slowly (the car can only reach around 70 km/h) while enjoying and exploring Snæfellsnes. I had not really travelled much in this area so I was blown away by the beautiful landscapes. Stopping nearly every 5-10 minutes to take photos and enjoying the lovely weather (the forecast was horrible so we were happy to catch some good weather).
On our way we stopped at Ölkelda, where we tasted some very strange water. It was like fizzy water that came straight from the ground. Had a very mineral taste to it. There a lovely dog greeted us whilst showing us around. She also told us that she really liked our car 🙂
For lunch we were invited to Langaholt Guesthouse. There we met up with Keli who brought us quite the lunch. Perfectly seasoned scallops, ling sushi and a rich and really tasty fish soup with warm home baked bread. After lunch we were really full, but had to taste the homemade desert which was dangerously good.
Before we could head on our journey, we seriously had to get the food settled before we could start driving. So we had a stroll on the beach there at Langaholt. The Kría bird didn't really want us there because of nesting season, but by asking them politely and promising to walk carefully, they let us through… finally.
And wow, what a beautiful beach!
So after a lovely drive all day at Snæfellsnes we reached Búðir. There behind the hotel, is a lovely shop full of mystery and magic. They were burning sage, so as soon as you step in you are filled up with calmness. All around they have beautiful art work, fun gifts and really nicely scented candles, soaps and burners.
We were checked into a really nice and luxurious room with a view over the lava.
At Hótel Búðir restaurant we were treated to a lovely dinner with just the perfect wine. This sure is a restaurant worth the drive. I do recommend the langoustine starter, cooked perfectly to my taste.
This second evening of the Handpicked Trip ended with a pop up show at Hótel Búðir.  Many guests came down and spent the evening with us. We played with a really lovely view behind us, and as the night went by dark clouds started forming.
For the night we were dry and happy sitting by the fire, but the next day we had a surprise date with some bad weather…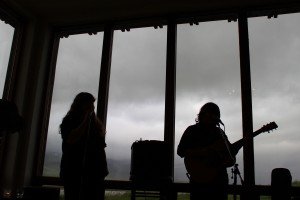 ---
Day 2 Lay Low song is By and By