EAT – Hótel Egilssen
PLAY – Seatours Iceland – Flatey
SHOP – Made in Sveitin
EAT – Hótel Flatey
PLAY –Rauðasandur Festival
SLEEP – Runólfur Rauði (the car)
---
After sleeping through the stormy night we hopped over to Hótel Egilssen for breakfast. Todays schedule would take us out to sea, so the lovely breakfast smoothie we got was perfect.  I have to admit that I was not very excited about going on the ferry in this kind of winds, but the guys at Seatours Iceland are used to all sorts of weather so there was no cancelling going to change our schedule for today. The trip over to Flatey was a bit bumpy, but Agnes found out the best way to not get see sick. Sit up on the deck and let the waves soak you 🙂
We landed safely at Flatey, and first thing was to visit Bryggjubúðin – Made in Sveitin. There we got the sea lag out of us over a good cup of coffee while looking through the lovely things they have there.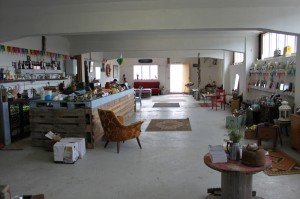 This day was very windy so on all our walks around Flatey we were kind of blowing around. So we were very hungry at lunch time when we got to Hótel Flatey. There we had a really nice Plokkfiskur and a cake for desert. This place is very special, so calm and relaxing. We sat there for some time just reading and talking to friends that are working at the hotel.
But you can't go to Flatey and just sit indoors all day, so we buckled ourselves in some warm clothes and headed out. The pop up show of the day was in the smallest library in Iceland called Bókhlaðan in Flatey.
After a few hours of enjoying Flatey we took the ferry over to Brjánslækur, and from there we drove down to Rauðasandur were the Rauðasandur Festival was. The most scariest drive of the trip was down a very steep and curly mountain road. We were very scared but Runólfur did the job very well and after that day he got the name Runólfur the Tractor, he sure is slow but he is steady.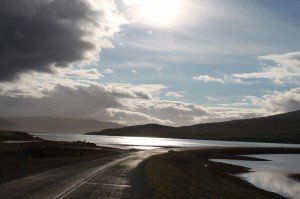 That evening we made the car up for sleeping, it was quite easy and surprisingly comfortable.
Friday night was full of fun, music and lovely weather at Rauðasandur beach. We love this place!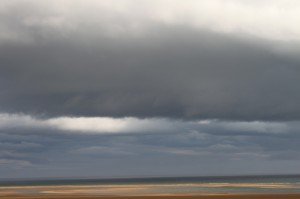 ---
Day 4 – Lay Low song of the day