Handpicked Iceland – Day 7
EAT – Guesthouse Nýp
EAT – Leifsbúð
PLAY – Eiríksstaðir
EAT – Hótel Bifröst
EAT – Roadhouse (unfortunately we couldn't make it, this time)
---
Like everything at Nýp, we had a very organic and a fresh country stile breakfast. Really wished I could just stay there for the rest of the summer, but more adventures awaited us on this final day. After reading the schedule we noticed that it entailed a lot of eating… we sure wouldn't get hungry today.
We started by driving over to Leifsbúð in Búðardalur. There we had a really filling traditional meat soup, homemade bread and really tasty meatballs. This cafe will definately be a choice for me next time I'm roadtripping past Búðardalur. The perfect food pitstop.
After lunch we head out to Eiríksstaðir. There we stepped back a thousand years and were told the stories of Eiríkur the Red and his adventures, or should I say mis adventures? :/ This was enlightening and fun to revise these stories we've been hearing almost since birth. The sun had come out and everything was beautiful.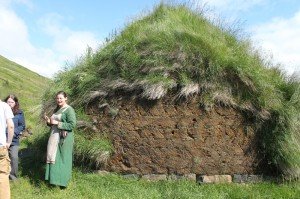 After putting down our swords and saying goodbye to the vikings we jumped back into the present and headed south. Coffee time we arrived at Hótel Bifröst. This is another great place to stop for lunch, cakes or dinner while driving around Iceland. I had never been there before and really like the vibe they have created there. Lovely 40's kind of architecture of the hotel blended with cosy sofas and catchy things for the eye.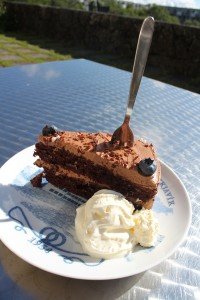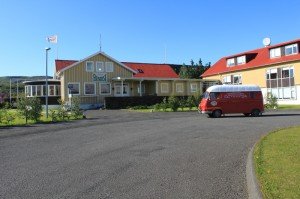 Finally we got the weather we had been dreaming about, so we sat outside and had a piece of cake each. Not sure if it was the sun or the recipe but the cake melted in my mouth and went down really really quickly.
We had a change of plans, it was turning late and we were getting tired after a week full of surprises, eat-outs and activities. So instead of ending at Roadhouse, Guðbjörg (the founder of Handpicked Iceland and Í boði náttúrunnar) invited us over for a light dinner and  small celebration after a successful traveling week. There we told them stories from our journey over dinner and we ended the lovely evening singing some tunes and giving them a small taste of the pop up shows.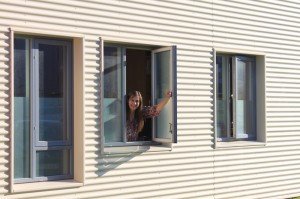 Thanks Handpicked Iceland!
We had a blast and say goodbye with great memories and funny events from our trip with you and Runólfur the Red 🙂
xxx
Lovísa and Agnes
---
Day 7 – Final song
Lay Low and Agnes Erna – You Are My Sunshine